| | | |
| --- | --- | --- |
| | Induction Sealing Machine – Air Cooled | |
Description :-

The working principal of the machine is heated by electromagnetic induction.

The heat from un- contacting induction makes the induction fil and aluminum foil melts together, and then seals to the bottle.

Induction sealing machines is the fastest and effective way of sealing the containers with foil membranes. These machines are ideal for all types of containers & can be easily incorporated in the production lines.

Its inner foil seal provides a true hermetic oxygen barrier which prolongs product life along with preventing leakage.

The sealing heads suit screw closures from 12mm to 150mm in diameter. Adjustable sealing heads are also offered that can be mounted over the production lines to seal containers having varying capacity & height.
Applications :-
Chemicals
Insecticides, Pesticides, Adhesives, Photo Chemicals, Flux, Household Cleaning Products
Automotive
Coolants, Lubricants, Break Oil.
Dairy
Milk, Yogurt.
Cosmetics
Creams, Scrubs, Shampoos, Lotions, Hair Oil.
Dental
Toothpaste, Filling Cement.
Health Care
Neutracueticals, Herbal Powders
Food Supplements, Vitamins.
Pharmaceuticals
Tablets, Capsules, Oral Suspensions, Syrups, Dry Syrups.
Food
Jams, Edible Oil, Food Flavors, ketchup, Lozenges, Confectionary, Salad Dressings, Pickles,
Mouth Fresheners, Condiments, Spices.
Beverages
Powder Drinks, Flavored Milk, Juices, Fruit Syrups, Coffee Concentrate, Tea Leaves.
Benefits Of Induction Cap Sealing




Better Quality
• No Leakage
• Increased Shelf life
• Tamper Evident
Higher Productivity
• Suitable for automated lines
• Conveyorized production possible
Reduced Costs
• No product recalls
• Uniform sealing 
• No operator required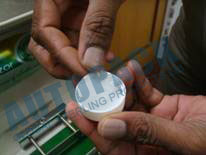 Specification : –
Voltage: 220V/50-60Hz
Power: ≤1,500W
Capacity: 0-12m/s
Sealing diameter:50-130mm
Suitable height of bottles: 40-300mm
| | | |
| --- | --- | --- |
| | Production Samples | |