No.1
SELLING INKJET CODING
PRINTER IN JAPAN
Cost Effective, Reliable and High Quality Industrial Inkjet Printer for Your Coding and Marking Needs
Service Backup / Spares available in Nigeria and throughout West African Region
KGK Japan's Leading Brand in Collaboration with Autopack – Nigeria is offering Continuous Inkjet Printing Machines
| | |
| --- | --- |
| KGK continuous inkjet printing machines are more technologically advanced and cost-effective, which offer high reliability and quality at a good price / performance ratio.KGK is Japan's leader in the coding and marking industry for both ink jet coders. We provide a complete line of industrial coders and supplies that are able to produce reliable codes at today's production line speeds. KGK graphics systems provide reliable and cost-effective printing of addresses, personalized messages, bar codes and serialized numbers. | |
Printing Applications :

Printing Expiry and Manufacturing Dates at High Speeds
Printing Product Information, Brand Logo and Product Description
Printing lot codes, Batch numbers, Bar codes with Consistent Print Quality
Printing on Primary Packaging like Wrappers, Foils, Pouches, Bottles, Containers
Printing  on almost all types of secondary packaging like Boxes, Cartons, Cases
Printing Permanent / Temporary and Consistent Codes
Suitable for Industries :-
Packaging Industry
Beverages
Cosmetics
Packed Food Items
Pharmaceuticals
Chemical Products
Automobile parts
Electronic Components
Eggs
Pipes & Tubes
Cables & Wires
Plastic
Glass
Wood
Paper Ceramics
Metal Industries
Features :

The machine body is made of robust stainless steel material.
Machine can be operated under wider environment conditions, our Inkjet Printer can be operational under the temperature conditions between 0 and 40 degrees C die to the special heater built in the print head.
Adaptable and designed to meet extreme working conditions. There is no worry about the highly dusty environment to operate this machine.No external air compressor is required.
As our print head has been designed so compact that printing on various shaped products is easily possible.
Our special "Interval Mechanism" which automatically re-circulate the ink even during non-operational time and so it eliminates risk of nozzle blocking due to dried ink for the use after a long non-operational condition.
Prints consistently high quality images even on structured and uneven surfaces.
Print features include Date, Time and Batch number, Logo and Barcode, Trademark.
Easy to integrate at any position of the production line.
User friendly interface and most reliable ink system.
Easy to Operate and almost negligible breakdown.
Our sales network and service backup system is throughout Nigeria. Our technical and support engineering team are always ready to respond and support customers.
Specifications :
Printing method
Continuous type Charge control system)Ink Jet Printer
Letter height
1-10mm
Printing speed
Maximum 2,000leters/sec (at 5×5dots font, letter interval of 1
Printing objects
Paper, metals, plastics, glass, wood etc.
Ink
CN1black (mild solution-based black ink)CN5black-A1(MEK-based super-adhesive black ink)CN505black (Oil-resistant and super-adhesive black ink)

CN101black (Fast drying black ink)

Letters
Alphabet (large/small letter), figures,symbol, hiragana, katakana, kanji
(JIS first and second standard), user registered letters, simplified Chinese
characters (GB2312)
Printing lines and dots construction
5×5:1-4 lines7×5, 7×8 dots:1-3 lines12×10, 10×8, 9×7, 9×9 dots:1-2 lines

24×24, 24×18, 16×12, 16×16 dots:1 lines

Fonts
Ming-cho, Block
Number of message
Maximum 50 messages can be registered.
Date, Time (Exp. Date) capability
Dominical year, imperial era name, Year month date, day of the week, time(12/24
systems), Number of the days and weeks through the year, Beginning, Middle
and later in the month (Period can be adjusted., AM/PM, assignment of
letters (assign letters to the numbers of date
Numbering capability
Maximum 8 lines, voluntary initial number, up/down, carry, (1 count can
be set 1-9999 works), zero suppress (substitute high-order zero by space),
assignment of letters (assign letters to the numbers)
Communication method
RS-232C Maximum38400bps
Head cable
3.5m
Nozzle diameter
50µm
Data input
Full keyboard, RS-232C communication
Dimension
Body: Height 674mm×Width 450mm×Depth 300mmPrint head: Height 40mm×Width 40mm×Depth 199mm
Use environment
0-40ºC 10%-80%RH No dew condensation)
Power
AV220V 50/60Hz 70W (100VA)AV230V 50/60Hz 70W (100VA)
---
Applications:

Chemical Industry, Food & Beverages, Breweries, Pharmaceutical, Plastic & Rubber Industry

Features and Benefits of Iceberg Air cooled industrial water coolers are :

- Stainless steel thermal buffer tank as standard

- Microprocessor control and alarm fault display

- Weather proofed for external sites

- Coated fins to protect aluminum condensers from corrosion

- Strong galvanized epoxy coated steel frame construction

– Improved component positioning for easy service access

- Heavy duty fan suitable for low ambient operation

– Wide range of variable chilled water temperature to meet the industrial requirements throughout whole year

Protection Devices :

- Phase Protector

- Fan Overload Protector

- High / Low Voltage Protector

- Water Level Protector

– Anti-Freeze Protector
---
Applications:

Suitable for Storage of Meat, Vegetable, Fruits, Dairy Products, Medicines, Chemicals, Storage of Ice Block, Seafood, Poultry Products etc.

Modular polyurethane insulated panel for cold storages are made of modular fabrication with polyurethane insulation with different dimensions, which make it flexible for construction different sizes of an ideal cold storage room. The modular design allows for easy assembly and disassembly. All panels are injected with 100% polyurethane firmly glued to the metal, which has a variety of finishes available to meet the customers specific requirement.

We have skillful engineering technicians and an installation team.

Features :

1. Full automatic microcomputer controller which can control and display the temperature accurately.

2. Equipped with energy ecnomizer which can save the energy by 20%.

3. Iceberg cold room adopts glass reinforced fiber, stainless steel as panels, as well as advanced compound materials as heat preservation materials to make compound wall. With light weight, high strength, good heat insulation, anti-corrosive, aging-resistant.

4. Compared with other cold storages, it can save energy by 30%-40%.

5. Easy assembling and disassembling as all walls are connected with built-in buckles inside so they are easy to assemble and disassemble, and minimizing the installation time.

ALL SIZES AND CAPACITIES CAN BE DESIGNED AS PER BUYER'S SPECIFIC REQUIREMENT.
---
Applications:

It is best for human consumption or used to freeze drinks / beverages, mix wines, cooling of food products, restaurants, lodgings, fast food stores, super markets, schools, night clubs & bars etc.

With an ice production capacity ranging from 50kg / Day to 2000kg / Day, Iceberg Technology can fulfill your special demands and we have dependable products available for any requirements. Our cube ice machines are widely used in restaurants, lodgings, fast-food stores, supermarkets, healthcare centers, schools, Night clubs & bars, etc.

Our ice cube machines are made of stainless steel evaporator, which can freeze the purest water to make bright crystal cubes with a high water displacement. The quiet system of our cube ice makers is dependable, durable with long lifespan and as well energy-efficient. Our cubes allow liquids to flow over it more easily whether pouring from bottles or dispensers and there is no splashing.
| | | |
| --- | --- | --- |
| | Production Samples | |
---
Applications:-

It is best for human consumption or used to freeze drinks / beverages, mix wines, cooling of food products, make ice pastries and poultry processing, meat plants etc.

1. Iceberg Tube Ice Machine is designed with the best ice making system; all fittings are assembled in the steel frame with strict quality and technique control.

2. All surfaces contacting with water and ice are made of stainless steel SUS304 or other anti-corrosive material.

3. The installation of tube ice machine is very easy, only need to connect water and power for the machine, the test run of machine is done by our engineers in our factory before despatch.

4. Ice harvest through hot Freon gas, ice output rate is very fast, the whole ice-doffing process only takes 2 to 3 minutes. And it continuously runs stably, without any energy wasting and gives high efficient working.

5. Tube ice comes out automatically with specially designed ice outlet, it can also be matched with our semi-automatic ice packing machine so that the ice to be packed into plastic bags.

6. PLC system controls the ice making process automatically.

7. Unique water distributive pan and air mouth, the water can evenly flow on the tube wall of the evaporator spirally, so it improves the heat transfer efficiency.
Features & Benefits of ICEBERG Tube ice machine are as follows:
- Capacity from 1.5-55 tons/24 hours

– Packaged type equipment for 1.5 – 5 tons capacity

– Good shape tubes and arrange on various sizes

– Ammonia/ R22/ environment friendly refrigerant

– Operate with high temperature make up water

– Eligible to install in ambient temperature

– Easy and low cost maintenance.

– Simple to operate, long life and low energy.
| | | |
| --- | --- | --- |
| | Production Samples | |
---
Applications:-

Fisheries, Aquatic product processing, Foodstuff processing, Poultry meat processing, Vegetable dispatching and preservation, Medical industry, Concrete cooling, Ice Cream Factories, It can be specially designed for fishing vessels using saltwater directly.

The thickness of ice produced by ICEBERG shell ice machine can be adjusted from 3mm to 10mm. Clear, hard all-purpose ice has great lasting quality and can be bagged, blown, conveyed or scooped without deterioration.

Working Principle:

Water flows over both the inside and outside surfaces of the double, tapered, stainless-steel tubes.

Refrigerant fills the space between the inner and outer tube surfaces. Clear ice forms on the tubes. When the ice has reached the desired per-set thickness, the water automatically stops flowing. Hot gas is introduced into the space previously filled with refrigerant, and in short time, release the ice.

The ice falls into a stainless-steel outlet conveyor which breaks the ice into nuggets and discharges them.

Features & Benefits of ICEBERG shell ice machine are as follows:

1. Double, tapered, steel evaporator tubes for fast freezing and quick ice release.

2. Rugged, non-corrosive construction.

3. Ice-making water shuts off during harvest so that no watery ice gets in ice bin.

4. No moving parts in the freezing zone.

5. No cutting blades to maintain, repair or replace.

6. Factory assembled, tested and fully charged with refrigerant.
| | | |
| --- | --- | --- |
| | Production Samples | |
---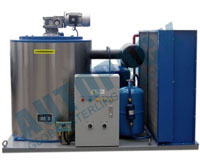 Applications:-

Fisheries, Aquatic product processing, Foodstuff processing, Poultry meat processing, Vegetable dispatching and preservation, Medical industry, Concrete cooling, Ice Cream Factories etc.

Features:

1. Internally scraping ice skate helps reduce energy consumption and prevents refrigerant leakage

2. Stainless steel materials, advanced processing equipment and heat treatment ensure
the best heat transfer efficiency

3. The design of large water receiving plate prevents water leakage at the bottom of drum.

4. Photoelectric switch is directly installed in the bottom of evaporator.

5. Direct liquid feeding and dry evaporation is simple, safe and reliable control.

6. Integrated modular equipment installation is convenient for maintenance.

7. Irregular ice flakes with size about 40*40mm and thickness around 1.5-2.5mm.

Specification:

- Flake Thickness : 1.5-2.0MM

- Power Supply: 3Phase / 380V / 50hz

- Fully Automatic System

- Per Day capacity: Upto 60 Ton Flake Ice

- Cooling type: Air-cooled

– Refrigerant: R22/R404A
| | | |
| --- | --- | --- |
| | Production Samples | |
---
Applications:-

Ice Fctories, Supermarkets, Hotels, Aquatic Production Processing, Fisheries, Poultry Processing, Vegetable / Fruits Processing and Preservation, Meat Processing and Cooling.

Iceberg Automatic Ice Block Making Machine is especially designed for tropical conditions and coastal climate. All contact parts with brine or water are pure stainless steel SUS304 or galvanized steel.
Ice blocks, standard sizes are:
4.5kg = 11.5 x 9.5 x 48cm
12.5kg = 15 x 13 x 70 cm
20kg = 25 x 13 x 70 cm
25kg = 30 x 13 x 70 cm
These blocks allow easy handling, they are neither too long, nor too heavy.
Other sizes / weights can be made on request.
Production Capacity is available from 200kg – 2 Ton per day.
Features:
- Copeland Refrigeration System to guarantee performance
- Thick enough heat insulation for water tank
– Aluminum alloy made ice module
- Customized ice size and cycle quantity
– Water/air cooling for choose
- Easy to Operate and Maintain
- Refrigeration equipment supplier with rich experience
– One stop solution for all cold chain equipments
- We adopt high quality components to guarantee the quality
– Professional team for solution installation and after-sale service.
We also provide different kinds for different purposes including Ice Cube Machine, Flake Ice Machines, Tube Ice Machine, Shell Ice, Industrial Chillers and Cold Rooms.
These products are widely used in large ice factories, supermarkets, aquatic production processing, pelagic fisheries, vegetable/fruit processing and preservation, meat processing and concrete cooling.
| | | |
| --- | --- | --- |
| | Production Samples | |
---